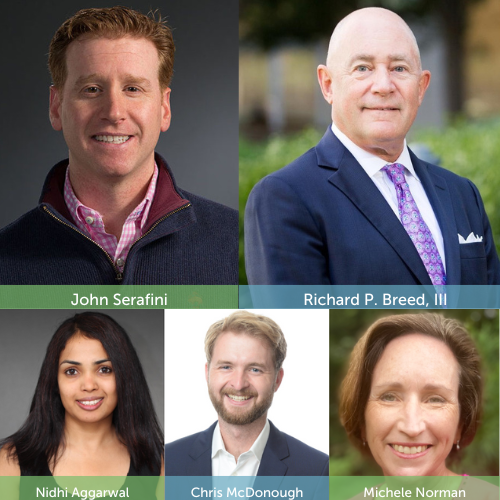 The Baker Center for Children & Families (formerly known as Judge Baker Children's Center), a national leader in children's mental health, announced that it recently elected John Serafini, Chief Executive Officer of HawkEye360, as Chairperson of its Board of Trustees.
This change in leadership comes alongside the promotion of Laura Barooshian of DiCicco, Gulman, & Company, LLP to First Vice-Chair, and David Martens of Boston College to Second Vice-Chair. As well as the election of three additional members of the Board, including Nidhi Aggarwal, a tech entrepreneur; Chris McDonough of Bain & Company; and Michele Norman, a nonprofit consultant.
John has over a decade of experience as a leader in the national security technology industry. As the Chief Executive Officer of HawkEye360, he oversees one of the largest developers of space-based radio frequency (RF) collection and mapping. He previously served as Senior Vice President of Allied Minds. John is a former U.S. Army infantry officer and graduate of the U.S. Military Academy, Harvard Business School, and the Harvard Kennedy School of Government.
"John has been an incredible asset to the Center in his many years as a trustee," said Dr. Robert Franks, President and CEO of The Baker Center. "This transition comes at a critical time for the organization, and we could not be more thrilled to have John assume leadership over our Board of Trustees. Through his guidance, we will continue to transform the ways in which we provide children's mental health care."
John replaces the previous board chair, Richard P. Breed III. Richard joined the Board as a trustee in 2011 before being elected chair in 2016 and serving in that role until 2022. Over the past six years, he has built an engaged and active board by increasing engagement in fundraising events, championing the Waltham capital campaign on behalf of The Baker Center, and more.
"I have every confidence that John will lead the Board of Trustees effectively and build upon the life-changing work of The Baker Center," said Richard. "His passion and dedication for children's mental health has been apparent in the years we've worked together."
About The Baker Center for Children and Families:
An affiliate of Harvard Medical School, The Baker Center for Children and Families is a nationally recognized mental health organization dedicated to improving the quality of mental health care for children (ages 2-22), families, and caregivers. Originally named Judge Baker Children's Center, in honor of Harvey Humphrey Baker, the first judge appointed to the Boston Juvenile Court, the Center opened in 1917 and serves children and families of Greater Boston and the MetroWest region.
The Baker Center is dedicated to improving the lives of children and families by bridging the gap between science and practice to improve access to the highest quality care in community-based settings. Their life-changing mental health and special education programs include Camp Baker, Center for Effective Therapy (CET), Manville School, and Next Step: College Success & Independent Living.