Who is Camp Baker For?
Camp Baker is a summer treatment program designed as a fun camp program for children struggling with ADHD and related challenges, who may struggle in neurotypical programs. We utilize evidence-based treatments, meaning interventions proven to be effective through decades of research support.
Camp Baker 2024 will run from July 9 – August 16
Kids ages 6-12
Children and youth in elementary or middle school.
Kids with ADHD
Children with mild to moderate ADHD symptoms who need support.
Kids with related behaviors
Children struggling with disruptive behaviors, anxiety, or noncompliance.
Daily check-outs about your child's day by their counselor
Consistent, predictable, and effective discipline strategies
Training in social skills, problem solving, and emotion identification and management
Taught skills and strategies to help improve concentration, attention, and task-completion
Location & Facilities
Situated in a reserved corner of the 1,100 + acres of Hale Education in Westwood, MA, Camp Baker has all the facilities of a top-rated summer day camp, including:
A large playing field for sports and group activities.
A 75′ sandy beach with swimming lanes, volleyball courts, changing area, and bathrooms.
Access to additional special activities, including ropes courses, boating, and a floating classroom.
One indoor, air-conditioned cabin for academics and other fun activities
Ample shaded space to provide a much-needed break from the summer heat.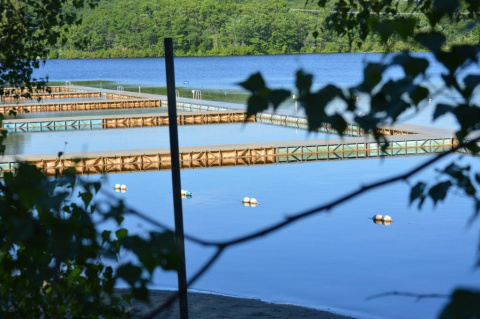 OUR SERVICEs
How It Works
Camp Baker is a 6-week day camp specifically designed for children with mild to moderate symptoms of ADHD. We have a fun, structured curriculum that helps set kids with inattention and hyperactivity up for success. Children participate in typical summer camp activities such as swimming, sports, and art. They also engage in two academic periods and daily social skills training.
Making A Difference
Success Stories
For the first time ever, my child was not only successful, but he enjoyed every day of his camp experience!
Camp Baker helps kids and parent build skills in a fun camp environment. The structure, clear expectations, and focus on praise, helps kids build confidence and feel good about themselves.
I left my child knowing he was safe and accepted.
Camp Baker's individualized approach really gives kids the tools they need in their toolbox to help them independently manage situations in the outside world.
The staff is so much better equipped to handle the specific needs of children with ADHD.