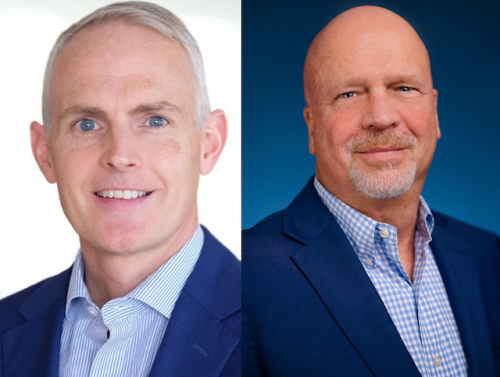 From left to right: Terence S. Bradshaw and Chris Herndon
The Baker Center for Children & Families (also known as Judge Baker Children's Center), a national leader in children's mental health, recently elected two new members to their Board of Trustees.
The Board welcomed Terence S. Bradshaw, of Bain & Company; and Chris Herndon, of HawkEye 360. The pair's unique backgrounds and perspectives will help to shape The Baker Center's future at a critical time for children's mental health.
Terence comes from a robust background as a consulting professional with 20+ years of management consulting experience. His career includes consulting specialties in commercial diligence, growth strategy, performance improvement, and post-merger integration.
Chris joins the Board with 20 years of government IT experience, having provided IT management for many notable government agencies. His background includes the development and execution of IT strategy and operations for the White House as Director of White House Information Technology.
"I am thrilled to welcome our two newest members to the Board of Trustees," said Dr. Robert Franks, President and CEO of The Baker Center. "Their combined expertise will allow The Baker Center to continue to lend a helping hand to our most vulnerable families and communities."
Under the leadership of Dr. Franks and the Board of Trustees, The Baker Center will build upon their 100+ year history and continue to meet the challenge of improving mental health care for all children and families.
About The Baker Center for Children and Families
An affiliate of Harvard Medical School, The Baker Center for Children and Families is a nationally recognized mental health organization dedicated to improving the quality of mental health care for children (ages 2-22), families, and caregivers. Originally named Judge Baker Children's Center, in honor of Harvey Humphrey Baker, the first judge appointed to the Boston Juvenile Court, the Center opened in 1917 and serves children and families of Greater Boston and the MetroWest region.
The Baker Center is dedicated to improving the lives of children and families by bridging the gap between science and practice to improve access to the highest quality care in community-based settings. Their life-changing mental health and special education programs include Center for Effective Therapy (CET), Manville School, Camp Baker, and Next Step: College Success & Independent Living.
Learn more about The Baker Center: